The standard for data centers
Recognized proof of physical safety and security of supply
Reduction of operating costs through higher energy efficiency
Reduction of failure probability and susceptibility to failure
Competitive advantages through compliance with a European normative basis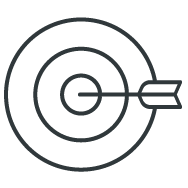 Why is a standard for data centers useful?
Until now, finding a suitable provider for IT services required extensive research. If a company wanted to build its own data center, many different specifications had to be taken into account.
With the publication of the EN 50600 series of standards in 2012, a basis suitable for the European market was created for planning, expanding, operating and maintaining a data center according to the current state of the art in a future-proof manner.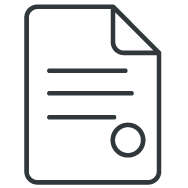 Information on the European standard EN 50600
EN 50600-1:2019 - Part 1: General concepts.
This part specifies what is to be protected and how, and requires a comprehensive operating cost analysis as well as business and risk analysis.
What risks is the data center technical structure exposed to?
Examples: Sabotage, flooding, power outages, etc.
What are business risks and what are the potential costs?
Example: Costs of unplanned downtime and maintenance periods during which the data center is not available (downtime analyses).
EN 50600-2-1:2021 - Part 2-1: Building construction
Requirements for building design and all associated aspects, such as the selection of a suitable site, its configuration, physical security of buildings, and protection against environmental risks. How these requirements are to be implemented is not specified.
EN 50600-2-2:2019 - Part 2-2: Power supply.
Which dimensioning is suitable for the requirements?
Which availability class is suitable?
How is the physical security of the data center ensured?
This part also includes energy efficiency. Here, the standard specifies three levels of granularity at which to measure:
The entire data center
Specific facilities
Data center infrastructures
Individual elements, such as a server
EN 50600-2-3:2019 - Part 2-3: Regulation of environmental conditions.
Section 2-3 provides the following specifications regarding the environmental conditions and infrastructure of a data center:
Specifications for the defined protection classes
Specifications for the defined availability classes
Specifications for the defined energy efficiency classes
Furthermore, this part specifies suitable methods for saving energy, gives further details on the physical security of the systems in relation to the environmental conditions and contains the following specifications and recommendations for:
Temperature control
Handling of liquid flows
Handling of air contaminants (airborne particles)
Handling of mechanical vibrations
Prototypical floor plans and site specifications
EN 50600-2-4:2015 - Part 2-4: Telecommunications cabling infrastructure
Section 2-4 deals exclusively with cabling in the data center itself, such as:
Network and storage cabling
Monitoring
Control and building automation
Control cabinets
Cable routes, etc.
EN 50600-2-5:2021 - Part 2-5: Security systems
The security system refers to the energy efficiency capability, facilities and infrastructures for data center security systems. This part of the standard specifies requirements and gives recommendations for the defined data center areas and the security systems used in them, for example protection against:
Unauthorized access
Fire within the data center areas
Environmental events
Hazards that may occur due to electromagnetic interference, vibration, flooding, gas and dust inside and outside the data center areas
EN 50600-3-1:2016 - Part 3-1: Information for management and operation.
Section 3-1 takes data center management and operations into focus and specifies the following processes:
Reliability
Availability
Security
Energy efficiency
Management processes
Acceptance processes
Consideration of the transition from planning and construction to operation of a data center
EN 50600-4-1:2017 - Part 4-1: Overview of and general requirements for performance metrics.
This part of the series of standards specifies, among other things, the following aspects:
A common structure
Concepts, terminology and boundary conditions for key performance indicators (KPIs) for the effectiveness and efficiency of data center resource consumption
Common requirements for KPIs for data center resource consumption effectiveness and efficiency
Common targets for KPIs for effectiveness and efficiency of data center resource consumption
General information on the use of KPIs for the effectiveness and efficiency of resource consumption of data centers
EN 50600-4-2:2019 - Part 4-2: KPI for energy used.
Part 4-2 defines the power usage effectiveness (PUE) of a data center.
Establish categories for measuring energy efficiency.
Describing how this metric relates to the IT equipment infrastructure and IT operations of a data center
Measurement, calculation and reporting of the parameter
Information on the correct interpretation of PUE
Supplement 1 to Part 4-2 serves as a guide for data center operators on the correct application of the power usage effectiveness (PUE) metric and its derivatives.
EN 50600-4-3:2019 - Part 4-3: Proportion of renewable energies
Section 4-3 defines the renewable energy fraction (REF) of a data center, specifies the methodology for calculating the REF, and provides information on the correct interpretation of the REF.
EN 50600-4-6:2020 - Part 4-6: Energy reuse factor
EN 50600-4-7:2020 - Part 4-7: Cooling efficiency factor (CER)
Section 4-7 specifies, among other things, the Cooling Efficiency Ratio (CER) to quantify the efficient use of energy to control the temperature of areas in the data center.
EN 50600-4-8:2022 (draft standard) - Part 4-8: Effectiveness of the avoidance of CO2 emissions
This part of the standard specifies the effectiveness of CO2 emission avoidance as a performance metric for quantifying the CO2 emissions of a data center during the deployment phase in its life cycle.
EN 50600-4-9:202 (Draft standard) - Part 4-9: Effectiveness of water use
This section of the standard applies if water use and/or water reuse in a data center is to be determined as a performance indicator for determining the sustainability of the data center.
What options does EN 50600 offer in terms of implementation?
Availability of services
A distinction is made between four different availability classes:
Class 1: Low measures are taken, interruption of operations is possible at any time
Class 2: Interruptions due to maintenance work can be planned
Class 3: Maintenance of the data center during ongoing operations
Class 4: High availability, interruptions to operations are virtually impossible
Security
The topic of security is also divided into four protection classes. At the heart of the data center design is the "onion-skin" principle. The most important systems are housed in the core (highest protection requirement), and the relevance of the systems decreases toward the outside. Another important component is the choice of location.
Protection class 1: General office areas
Protection class 2: Personnel entrance to the data center, loading area and storage area
Protection class 3: Electrical area, air conditioning and refrigeration area, telecommunications area, assembly and test rooms
Protection class 4: Computer rooms, control area, office area, data center, network distribution area
Enabling energy efficiency
Possibility of power measurement, three levels are distinguished. Due to the high power consumption, efficiency and the requirement for CO2 reduction play an important role.
Operational excellence
EN 50600 provides guidelines and evaluation procedures with regard to day-to-day operations, maintenance, possible emergencies and modernizations. There are points of contact here with other information security standards, such as ISO/IEC 20000-1, ISO/IEC 27001 and IT Infrastructure Library (ITIL).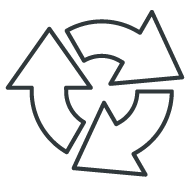 What are the advantages of EN 50600 certification?
Demonstrate physical security and reliability of supply to customers and business partners
Reduction of operating costs through higher energy efficiency
Reduction of failure probability and susceptibility to failure
Competitive advantages through compliance with a normative basis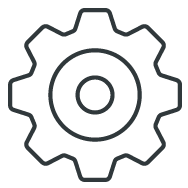 How does DIN EN 50600 certification work?
Certification of your data center is based on the European standard EN 50600 in conjunction with an information security management system according to ISO 27001. You will receive a corresponding certificate. Once all standard requirements have been implemented, you can have your management system certified. You will go through a multi-stage certification process at DQS. If your system complies with the standard, you will receive a corresponding certificate.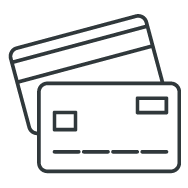 What does EN 50600 certification cost?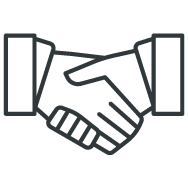 What you can expect from us
Expertise and accreditations for all relevant standards
Personal, smooth support from our specialists - regionally, nationally and internationally
Individual offers with flexible contract terms and no hidden costs